Tennis Club Court Rules

MISSION STATEMENT: The Club is primarily for the recreational enjoyment of the owners and associate members. We strive to promote the enjoyment and growth of tennis.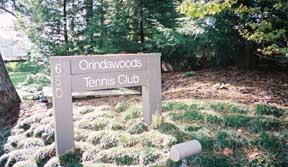 Court Rules
Court Sign-in

All court use must be recorded on the "sign-up" board outside the Pro Shop. If you take a "reservation" court, you must also sign in on the lobby computer or risk being bumped.
Guests

Members are to register guests, prior to play, in the Pro Shop. Guests must be accompanied by a member unless prior arrangements have been made and approved by the Club Manager.
$10.00 per person Prime Time (8:30 a.m.-11 a.m. weekdays, 8:30-12 noon weekends, and lighted courts 6-9:30 p.m., daily)
$10.00 per person all other times (including non-lighted evening court time in the summer)
$1.00 Juniors - tennis and/or pool
RESERVATIONS*

The following rules take effect 1/1/08:
A. Reservations can be made 169 hours in advance (7 days, plus one hour, to the second). Example: if I want to reserve next Tuesday at 11 a.m., I can make that reservation starting at 10 a.m. this Tuesday. At 10:30, I could make a reservation for 11:30 the following week, etc…
B. Certain very popular reservation times will have Designated Start Times, so that everyone will have an equal opportunity to reserve that court (169 hours before, down to the second). In the mornings, most reservation courts will be blocked to 9-10:30, most weekday evening reservation courts will be 6-7:30. A few courts will be left for more flexible reservation starting times (on the hour, and on the half hour).
C. Reservations may be made in person, on the phone or at orindawoodstennis.com.
D. Same day reservations will now be accepted on the computer. You can look on-line from home or office, see a court is free later, and make that reservation right now. Since it will be immediately posted on the lobby computer, people arriving at the Club will see your reservation.
E. If you come to the Club and take an open reservation court (not courts 4 or 5, which can't be reserved), you need to register for that court on the lobby computer, or someone could come along (or from home) and make a reservation for that court, and take your court.

F. Reservations are for 1 1/2 hours time blocks, starting at 7:00 a.m. (1hr for Ball Machine)
G. Court reservations are forfeited if you don't show up within 15 minutes of the beginning of the reservation. People who after 15 minutes displace the original reservation have until the end of the original reservation to play.

H. Each family is allowed TWO active (once you have played one, you may make another) advanced reservations per week (one per evening), from the following 3 categories:
1. prime time, 8:30 - 11:00 a.m. (8:30 - 12 noon on weekends)
2. prime time lighted courts, 6-9:30 p.m.
3. non-prime time (includes evening courts that are not lighted)
Note: Non-advance (day of play) reservations are unlimited
I. Court Availability:
courts 1, 3, 6 & 7 may be reserved (2 & 3 for evening play)
Courts 4 & 5 are "open play" courts and may not be reserved.
Court 2 may be used by members when not used by the Professional. Court 2 can be reserved on weekend mornings before 10 a.m..
*The above general rules will be waived as necessary to accommodate announced activities such as Tournaments, Social Events, League Matches, Programs, etc that are sponsored by the Club.
RULES OF PLAY

A. Courtesy in play and in the use of the courts is expected of all players according to the TENNIS CODE OF ETHICS
B. On all courts, when others are waiting, play will be limited to no more than 1 1/2 hours for singles and doubles.
C. No pets, toys, baby strollers, bikes, roller skates/blades, skateboards or other objects which could damage surfaces are allowed on the courts.
D. No glass bottles, food or beverages (other than water or sports beverages in plastic containers) are allowed on the courts.
PROGRAMS

All programs and activities (including league teams and social events) must be approved by the Board of Directors or its agent, the Executive Tennis Director.
ATTIRE

Appropriate tennis attire is required. Tennis shoes and shirts are mandatory. No running shoes or black soled shoes will be permitted on the courts. Members are responsible for informing their guests of Club attire requirements.


RESERVATION AND LIGHTED COURT GUIDELINES
What follows are guidelines that will be helpful in understanding the rules and, and more importantly, the intention of the rules. In addition to the Court Rules, these guidelines are intended to give everyone a fair chance to play their fair share at Orindawoods. The guidelines:


1) Two active reservation on the books at one time. Once you play, you can make another reservation.

2) Only one reservation per evening per family

Comment
: You can't use your two reservations for the week on the same evening. This would not be sharing.
3) No back to back reservations (at 6 p.m. and then again at 7:30 p.m.) for people in the same groups, even if the reservations were made by different people within the groups.

Comment: In other words, no one playing in the first round of reservations can play in the second round.

4) No team practices at night time on the lighted courts.

Comment
:Team members can certainly play in the evening with other members of their teams, but one group (a team) dominating all the lighted courts is not fair to the other people that wish to play in the evening (refer to #3).
5) The person who made the reservation must be present and playing on that court, or the reservation is void.

6) Half the players on any given court should be members.

Comment
:The club is for the members after all. Filling out a foursome with a guest or two so that members can play is certainly a privilege of membership, but to have a court dominated by guests is once again, not fair to other members who want to play.
I hope these guidelines are helpful. Again, this is all presented in the spirit of sharing our limited resources so that each and every member can play as much as is their fair share.